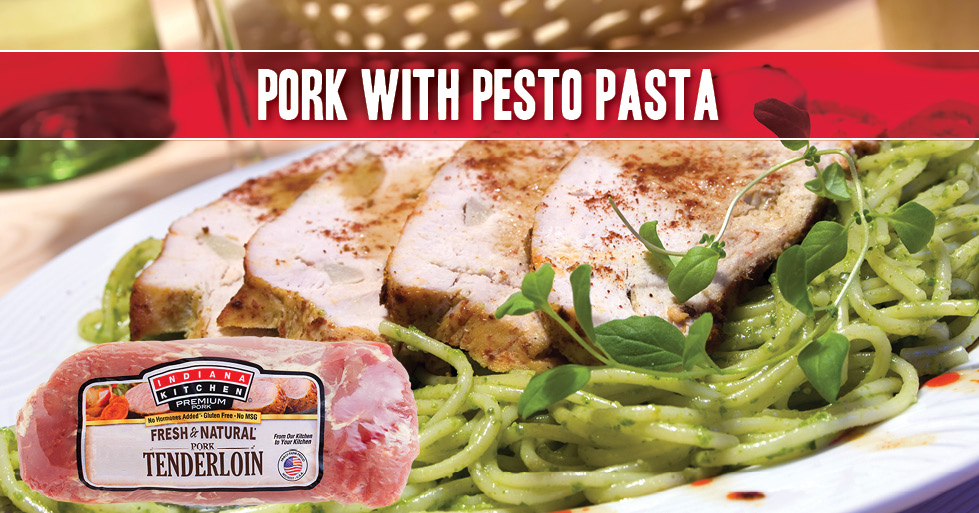 Pork Tenderloin in White Wine Sauce
Season all sides of tenderloin with garlic powder, Lowry's season salt and pepper.

In a large cast-iron skillet over medium-high heat, melt butter then add oil. When oil is hot, add tenderloin and sear all sides for a few minutes to brown. Remove tenderloin from pan momentarily.

Add garlic and onion to skillet and cook for about 3 minutes. Add white wine and let cook down until reduced by half. Add the water and return tenderloin to skillet, adjusting heat to low and covering. Let pork cook on low for about 20 minutes or until meat thermometer reads 145°F in center.

While pork is cooking on low, cook pasta according to package directions.

While pasta is cooking, heat oil in a pan over medium heat. Then add pesto and onion. Cook about five minutes or until onion is soft.

Drain pasta, then return to pot. Add pesto mixture and stir thoroughly.

When pork is finished cooking, cut crosswise to form medallions and lay over top of pasta. Spoon extra sauce from pan over pork. Enjoy.