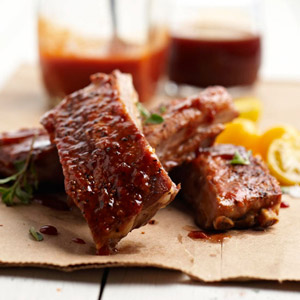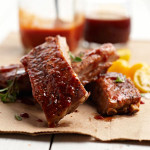 Servings

Prep Time

10

people

30

minutes
Servings

Prep Time

10

people

30

minutes
Servings

Prep Time

10

people

30

minutes

Servings

Prep Time

10

people

30

minutes
Place tomatoes and shallots in blender with pan juices. Pulse, half at a time, until liquefied. Add brown sugar, vinegar, the 3 tablespoons of olive oil, paprika, and, if desired, fleur de sel. Blend until smooth. Taste and adjust seasonings if desired. Remove from blender. Put through a food mill or fine mesh strainer to remove seeds and skins.

Build charcoal fire or preheat gas grill for indirect cooking. Core tomatoes; coat tomatoes and shallots with olive oil. Season with salt. Place in disposable aluminum pan. Place in center of grill indirectly over medium heat; grill, covered, 30 minutes or until tomato skins are bursting and shallots are soft; remove.

Place strained liquid in large saucepan. Simmer gently 5 minutes. Remove and use immediately or refrigerate in tightly covered container for up to 1 week.

Place Indiana Kitchen ribs, bone-side down, in center of grill or in rib rack, making sure they are not over direct flame. Grill, covered, over indirect medium heat (about 325 degrees F) for 2 to 2-1/2 hours or until meat is tender and has pulled back from ends of bones (see tip below). Brush with some of the BBQ sauces 10 minutes before end of grilling.

Remove ribs from grill and let rest 10 minutes. Cut into portions; pass remaining sauce. Makes 10 servings with 2-1/3 cups barbecue sauce.