Hi. I'm Gabrielle.
But anyone who knows me calls me Gabby.
Often I'm asked how I keep all the plates spinning in the air—which represent the busyness of my life, career and family.
My answer: it comes straight from the lessons I learned from my father.
I'm a proud farmer's daughter from rural Indiana—green pastures, corn knee-high by the Fourth of July, and twilight tractor rides, seated next to my hero—Dad.
Some evenings when the crickets sang and fireflies danced, he shared his limitless wisdom with me.
"Do your best, Gabby. Respect others. Care for your community.
Never let the sun go down while you're angry."
Just a few of the kernels of knowledge he sent my way. I think that last piece of advice had more to do with Dad's perpetual habit of walking into the house wearing muddy boots while Mom graciously, and sometimes not so graciously, turned the other cheek.
A fair and funny guy to his core, Dad wore his self-imposed job title as CFO, Chief Farm Officer, as a badge of honor.
Raising crops and growing livestock were his way of feeding others—his mission in this world.
Helping fellow farmers plant seed or check in on animals while neighbors were away was something he did with no thank you needed.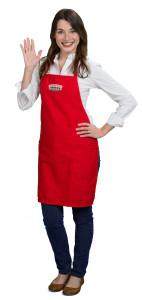 Mom and Dad mean the world to me. They gave me the gift of encouragement—teaching me to be the best me I could possibly be.
The example my parents set for me instilled the go-getter work ethic I hold fast to. Dad and Mom's compassion and determination helped shape me into the CFO, Chief Family Officer, that I am today.
I believe in giving my all in everything I do.
From family and friends, to my career and community involvement, my day-to-day life is purposefully planned. I cherish the titles wife and mom.
Because I take those roles seriously, I only want the best for my family.
That's why this farmer's daughter and CFO, chooses Indiana Kitchen premium pork products above the rest.
Sourced almost entirely in the Midwest from farmers just like Dad, Indiana Kitchen's hand-selected products are cured the old-fashioned way. With no added hormones or MSG, it's quality I can count on.
From juicy tenderloin and savory hams to sinfully delicious thick cuts of bacon, Indiana Kitchen's products meet my executive-level standards and are delicious to the very last bite.
Take it from this Chief Family Officer who knows the value of farm-fresh products for my family, there's only one Indiana Kitchen. Oh—in case you wondered, they also receive my dad's stamp of approval.