The Flavor is in the Freshness
Since our meat only comes from nearby Indiana pork farmers, we offer you the honest-to-goodness freshest, tenderest, most flavorful pork you can find.
All of our boneless pork loins and tenderloins, spare, back and St. Louis-style ribs and Boston butt pork shoulder roasts are hand-selected and carefully trimmed so you're putting the best pork on your table—with no hormones*, gluten or MSG added, ever.
Boneless Pork
Pork Ribs
Bone-In Pork
Boston Butt Pork Shoulder
Product Information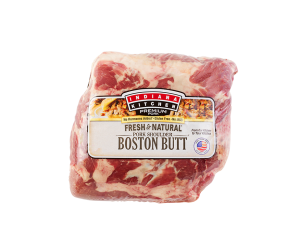 No IFs, ANDs or BUTs, this is hands-down one of the best cuts. Also known as a Boston butt, Boston roast, pork butt, shoulder butt, shoulder roast or country roast, this cut of meat comes from the shoulder and is perfect for making pulled pork, shredded pork or carnitas! Slow-cook it if you can or try it cut into steaks or stew meat.
*Federal regulations prohibit the use of hormones in pork production.