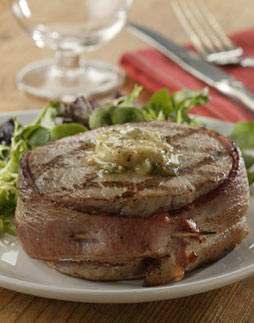 Move over, filet mignon! These mighty bacon-wrapped chops have the taste territory covered! Serve with baked potato and steamed broccoli.

Dry the chops with paper towels and season generously with salt and pepper.

Wrap a strip of bacon around each one, securing with a toothpick.

Cook as directed below to medium doneness. Remove toothpick; serve chops topped with Garlic-Mustard Butter.

Broil: Broil 4 inches from heat source, 6-7 minutes. Turn and continue broiling to desired doneness, approximately 5-6 minutes for medium (160 degrees F.). Pan-broil: Heat grill pan over high heat; add chops, lower heat to medium-high and cook for 6-7 minutes, until nicely browned. Turn and continue cooking for about 5-6 minutes for medium doneness. Grill: Prepare medium-hot fire in grill; grill chops over direct heat for 6-7 minutes; turn and grill 5-6 minutes more for medium doneness.
In a small bowl, stir together butter, mustard and garlic until well-mixed.

Wrap in waxed paper to shape like a stick of butter.

Chill while pork is cooking. When ready to serve, cut into fourths and top each pork chop.