Fall party pleasers for the school crowd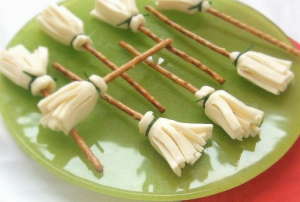 Sugar coated, sugar caked, and sugared up until the cows come home. If that doesn't describe Halloween treats our kids know and love, I'm not sure what does. Believe me, I love candy just as much as the next person who buys truckloads to appease costumed little ones when they arrive, and say, "Trick or treat!" I never handout Bottle Caps or Butterfingers on Halloween. They tempt me in the days ahead, begging me to eat them. It would be rude not to give in to their request, right? So it's best they remain out of my grocery cart, otherwise, it's back to the store I trot to buy more.
But I digress…
Planning party snacks for school can feel challenging. Some schools prefer classrooms celebrate a fall harvest theme, while others are open to ghosts, goblins and things that go bump in the night. Providing food kids will devour, while being mindful of school policies on snacks, as well as remaining sensitive to children with food allergies, might make you cringe and sign up to only provide paper plates—I get it. I really do.
So let's put a little fun and creativity into snacks while saving time and sanity! I'm a big believer in not reinventing the wheel, so thank you to the crafty folks who shared their ideas online!
Snacks with a little prep time required:
Mini Carmel Apples
Delicious caramel apple taste in one bite! This is one adults would enjoy at a tailgate party, too!
https://www.pinterest.com/pin/201606520796653613/
Broomsticks
With a simple switch to gluten free pretzel sticks, this easily becomes a snack that children with wheat sensitivities can enjoy.
https://www.pinterest.com/pin/201606520796653610/
Quick and crafty snacks:
Boo Cheese Sticks & Jack O' Lantern Cups
If you are short on time, yet have a black Sharpie marker, this is the snack for you! You could also replace the mandarin orange cups with orange gelatin snack cups.
https://www.pinterest.com/pin/201606520796653621/
Spider Eggs
Wash and remove seedless grapes from the stem, then place grapes into a bowl. Craft a little sign that says, "Spider Eggs! Beware!" Set a few plastic spiders around the bowl, a little fake web material underneath, and you're good to go.
Lucky for us Chief Family Officers who might be super short on time, companies love to create snacks packaged for Halloween that you can simply purchase ready-to-go and send off to school. No assembly required snacks is sometimes what a busy family needs.
Enjoy!
Gabby
Chief Family Officer