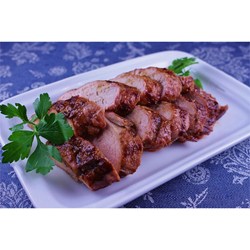 We all live life on the busy side of the street, right?  I'm all about quickly prepared, tasty meals for my family, and this tenderloin is no different. Prep it, and wrap it the night before, and serve with wild rice and steamed baby carrots.

Preheat grill for indirect heat.

Combine dry ingredients, and blend well.

Rub tenderloin with seasoning mix, coating all sides.

Place pork on grill, but not directly over flame. Close grill lid, and cook over indirect heat until meat thermometer reads 160°, which would be about 20 to 30 minutes.

Remove from grill, and let stand for 5 to 7 minutes before slicing.
Kick up the recipe with a Horseradish Sauce
2 tablespoons mayonnaise
2 tablespoons sour cream
1 teaspoon prepared horseradish
1/8 teaspoon lemon zest
Touch of salt and pepper to taste
Combine ingredients, and refrigerate until serving.