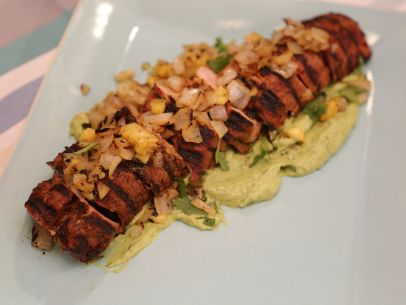 This blend of flavors is unexpected, yet delicious, when paired with tenderloin. Use as a fill for corn tortillas or crunchy shells for a Tex-Mex flair, or serve plated with tenderloin atop avocado crema.

Combine pineapple juice, chipotle chilies, garlic and 1½ teaspoons salt in food processor. Puree. Reserve about ½ cup of the marinade for glazing.

Place remaining marinade and pork in a resealable plastic bag. Marinate for 2 hours in the fridge. Rotate and disperse marinade periodically, if possible.

Heat grill to high. Clean and oil the grates.

Thread the onion rounds onto skewers through the outer slice, drizzle with oil, and season with salt and pepper. Grill the onions until charred on all sides. Set aside to cool.

Lightly season tenderloins. Grill on all 4 sides, frequently basting with the reserved marinade. Cook until golden brown for 8 to 10 minutes per side and internal temperature registers 145.

Cover loosely with foil, and rest tenderloin for 5 minutes.

Mince cooled onions, and season.

Slice the pork, and serve with a dollop of avocado crema.

Garnish with chopped cilantro and charred onions.
Combine cilantro, Mexican cream, avocado and lime zest and juice in a food processor, and run until smooth.

Season with salt and pepper.

Cover with plastic wrap pressed on top until serving to keep crema from turning brown.