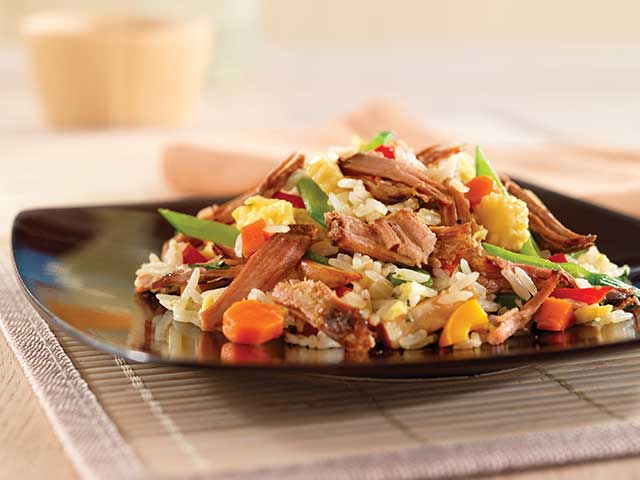 When you're looking for a one-dish meal to make dinner preparation easier, count on Indiana Kitchen. This quick and simple dish combines delicious pork with a takeout menu favorite you can make right at home.
UPDATE: Freezer version at the bottom!

In a medium pot over medium-high heat, combine the rice and water and bring to a boil. Reduce to a simmer, cover, and cook until the water has evaporated and the rice is al dente, about 15 minutes. Fluff with a fork and set aside, uncovered.

In a wok or large skillet over high heat, warm the oil. Add the Indiana Kitchen pork and cook, stirring occasionally, until lightly browned, about 2 minutes. Transfer about half of the pork to a plate or bowl and cover loosely to keep warm.

Add the rice and vegetables to the skillet and stir-fry until heated through, 1 to 2 minutes. Stir in the broth and soy sauce. Make a well in the center of the mixture and add the eggs, gently stirring the eggs occasionally until softly set, 1 to 2 minutes. Stir to mix the eggs into the rice. Add more soy sauce to taste, top with the reserved Indiana Kitchen pork, and serve. Note: Cooking the rice al dente will help keep it from becoming gummy in the stir-fry.