Hanging Out at Home on Valentine's Day
: Is it just me, or does it seem like life couldn't get any busier? As much as I love going out on a date with my husband, something much more appealing to me is being home, having a delicious meal for two, then letting him sacrifice his man card by watching a romantic movie with me.
The kids will be invading Camp Nanny Grannies (my parents' home) Valentine's weekend, while we plan on staying in and enjoying the evening without playing referee. That means a quiet dinner, maybe using the wedding china that normally collects dust, and hopefully, time together before one of us falls asleep. One can dream, right?
So how do you go about making this evening wonderful when your day-to-day runs on overdrive? Never fear—check out what I do here:
What's Cooking, Good-Looking? The way to my hubby's heart, and mine, is bacon. It's one of the many common denominators that brings us together. All kidding aside, nothing says, "I love you" better than a dinner featuring Indiana Kitchen thick-cut bacon, so that's what's on the V-Day menu. Are you ready for this little gem? It will change your life!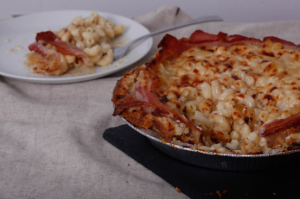 Bacon-Crusted Mac-and-Cheese Pie
INGREDIENTS
1 lb. elbow macaroni
1 quart (4 cups) milk
12 oz. cheddar cheese, grated
8 oz. Taleggio cheese, cubed, with rind removed
8 oz. Fontina cheese, cubed, with rind removed
8 tablespoons unsalted butter
1/2 cup all-purpose flour
1/2 teaspoon nutmeg
1/2 teaspoon black pepper
1/4 teaspoon cayenne
1/2 teaspoon salt
1 refrigerated piecrust
1 lb. Indiana Kitchen thick-cut bacon
INSTRUCTIONS
Heat oven to 425 degrees F.
Prep the three cheeses.
To make the cheese sauce, place the milk in a saucepan over medium-low heat.
In a separate saucepan, melt butter, and add flour slowly, whisking to combine.
Combine milk and butter mixture into one saucepan, whisking constantly, until combined and smooth.
Add cheese first, then nutmeg, black pepper and cayenne pepper.
Stir continuously, making sure the cheese melts evenly and doesn't burn.
In a separate pan, bring water to a boil, and add salt.  Add the macaroni, and cook approximately 10 minutes, until the pasta reaches your desired Strain the macaroni, and place in a large bowl.
Combine cooked macaroni noodles and cheese sauce, and mix Set aside.
Place piecrust in a pie pan. Line bottom and sides of the piecrust with uncooked Indiana Kitchen bacon.
Fill crust with mac and cheese. If any excess, store for future meal.
Bake pie for 20 minutes, until the bacon is crispy.
Cool before serving . . . if you can stand it.
Sweets For My Sweet. My husband is a sucker for butter pecan ice cream. Right after bacon, it's his kryptonite. For me, my knees buckle for salted caramel and chocolate. I buy a pint of each flavor, and we enjoy every last bite. There are no calories on holidays, right? Right!
Movie Time!  Full bellies, ice cream in hand, it's time to forget the dishes, for now, and kick back and enjoy a movie. My hubby is a good sport, and let's me choose any chick flick I'd like to watch. It really is inconsequential to him what I choose. He'll be asleep before the opening credits roll, and I'm OK with that. To me, he's my valentine year-round.
Happy Valentine's Day!
Gabby