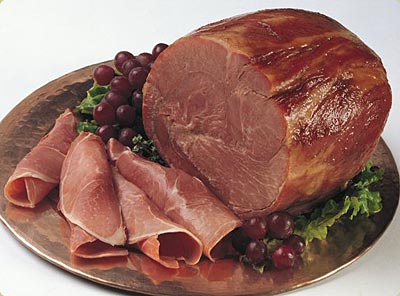 Remember when I shared with you last month my grandmother's sage advice, "Ham isn't just for the holidays?"  You'll want to wrap your taste buds around this barbequed ham!  Plan a week's worth of meals with the leftovers!  Slice it up for sandwiches, or add it to a casserole with cheese and potatoes.  You'll make my grandma proud.

Turn grill or oven on high heat, and preheat for 15 minutes

Place ham in center of heavy-duty aluminum foil sheet, and pour brown sugar over ham. Firmly press sugar on to ham, turn and repeat on all sides until ham is covered. Wrap tightly with foil, then add another tightly wrapped layer of foil, so that none of the ham is exposed.

Reduce the heat to low, and place ham on top rack. If this is not possible you will need to place wrapped ham into a foil pan on the lower rack to prevent ham from drying out.

Cook for the next 90 minutes. Do not open the oven door or grill lid at this time.

Once ham is done, remove from grill or oven and let sit for 5 to 10 minutes. Then, remove foil and serve.
Tip: When removing foil, do so over a bowl to catch the juice and spoon over the slices.