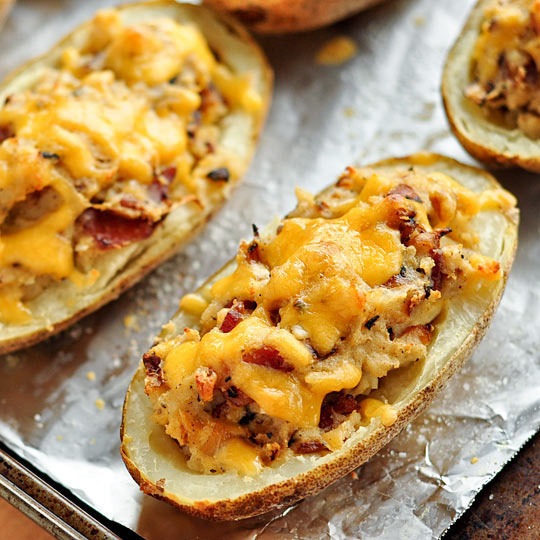 Things just got real with these creamy, cheesy, crunchy twice-baked potatoes!

Heat the oven to 425°F. Line a baking sheet with aluminum foil.

Scrub the potatoes clean, rub them will olive oil, and sprinkle them with salt. Prick the potatoes a few times with the tines of a fork. Arrange them a little ways apart on the baking sheet. Bake for 50-60 minutes, until they are completely soft when pierced with a fork and the skins are dry.

While the potatoes are baking, begin preparing the filling. Warm a skillet over medium heat and cook the bacon until most of the fat has rendered and the bacon has crisped to your liking. Remove the bacon bits with a slotted spoon and drain on paper towels.

Pour off all but a teaspoon of the bacon fat. Cook the onions with a half teaspoon of salt until the onions are deep golden and caramelized. Stir in the garlic and cook for another thirty seconds. Remove from heat.

When the potatoes are cool enough to handle, slice them in half and scoop the insides into a medium-sized bowl. Leave a quarter inch or so of potato next to the skin. Mash the potatoes with the onions, garlic, bacon, sour cream, and about 3/4 cup of the cheddar cheese. Give it a taste, and add more salt and pepper as you see fit.

Arrange the potato skins on the baking sheet. Divide the filling between all the skins and sprinkle the tops with the remaining 1/4 cup of cheddar cheese. At this point, the potatoes can be baked right away, or refrigerated and baked later.

Bake for another 15-20 minutes, until the cheese has melted and the peaks of the mashed potatoes are crispy. Potatoes that were refrigerated may take a little longer. Serve straight off the baking sheet while still hot and bubbly. Leftovers will keep for up to a week.