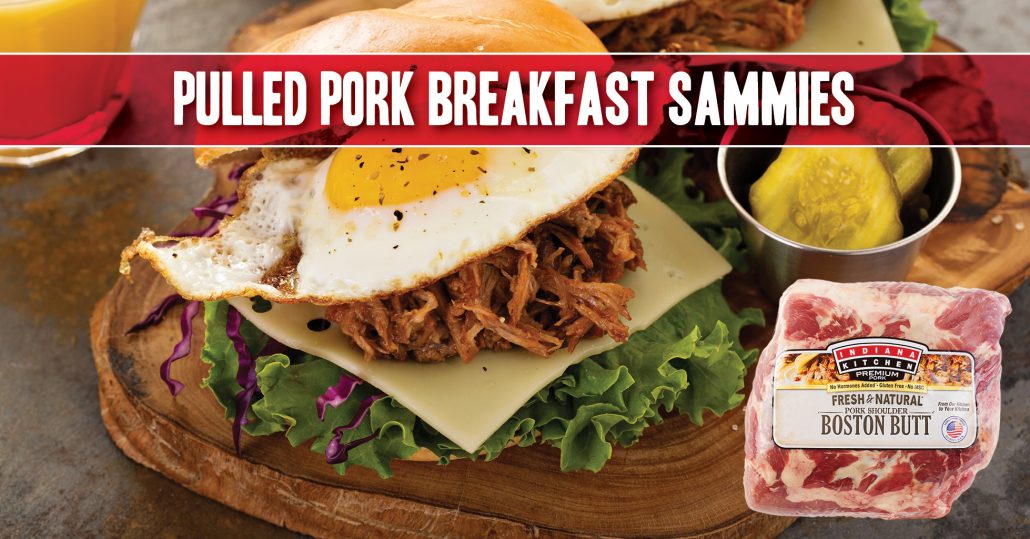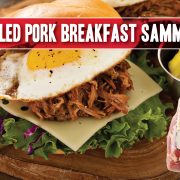 Why wait for dinner? These Pulled Pork Breakfast Sammies are topped with a fried egg, as if you needed an excuse to have pulled pork for breakfast.*
Servings

Prep Time

6

sandwiches

5

minutes
Servings

Prep Time

6

sandwiches

5

minutes
Why wait for dinner? These Pulled Pork Breakfast Sammies are topped with a fried egg, as if you needed an excuse to have pulled pork for breakfast.*

Servings

Prep Time

6

sandwiches

5

minutes

Servings

Prep Time

6

sandwiches

5

minutes
Add pulled pork with barbecue sauce, if desired, to baking dish; mix lightly. Bake, uncovered, for 15 minutes or until heated thoroughly.

While pulled pork heats up, fry bacon to desired doneness in skillet over medium heat. When finished, set aside on a paper towel-lined plate.

In another large nonstick skillet, melt half the butter on medium-low heat.

Crack 3 of the eggs into the skillet, 1 at a time, keeping separate. Fry eggs about 5 minutes, or until the egg whites are solid and the yolks reach desired doneness.

Transfer cooked eggs to a plate and set aside. Repeat steps 4 and 5 with remaining butter and eggs.

Make sandwiches by layering pulled pork, cheese slices, lettuce, red cabbage, bacon and eggs on a hamburger bun just before serving.
Make the pulled pork ahead of time to make breakfast a breeze. Here's a simple recipe for turning an Indiana Kitchen Pork Shoulder into delicious pulled pork in a slow cooker: https://indianakitchen.com/recipe/slow-cooker-pulled-pork/.