Creamy Broccoli & Bacon Salad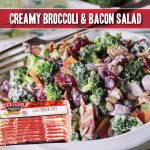 Servings

Prep Time

6

servings

20

minutes
Servings

Prep Time

6

servings

20

minutes
Servings

Prep Time

6

servings

20

minutes

Servings

Prep Time

6

servings

20

minutes
Cook the bacon until crisp. Chop into small pieces.

Separate the broccoli crowns from their stem. Snap the florets from the broccoli crown and pull them apart so that they are bite-size. Rinse broccoli then pat dry.

Toss onion with the broccoli, bacon and cranberries in a large bowl.

In a separate bowl, stir the mayonnaise, cider vinegar, mustard, a pinch of salt and pepper to taste.

Pour the dressing over the broccoli and onion and mix well.