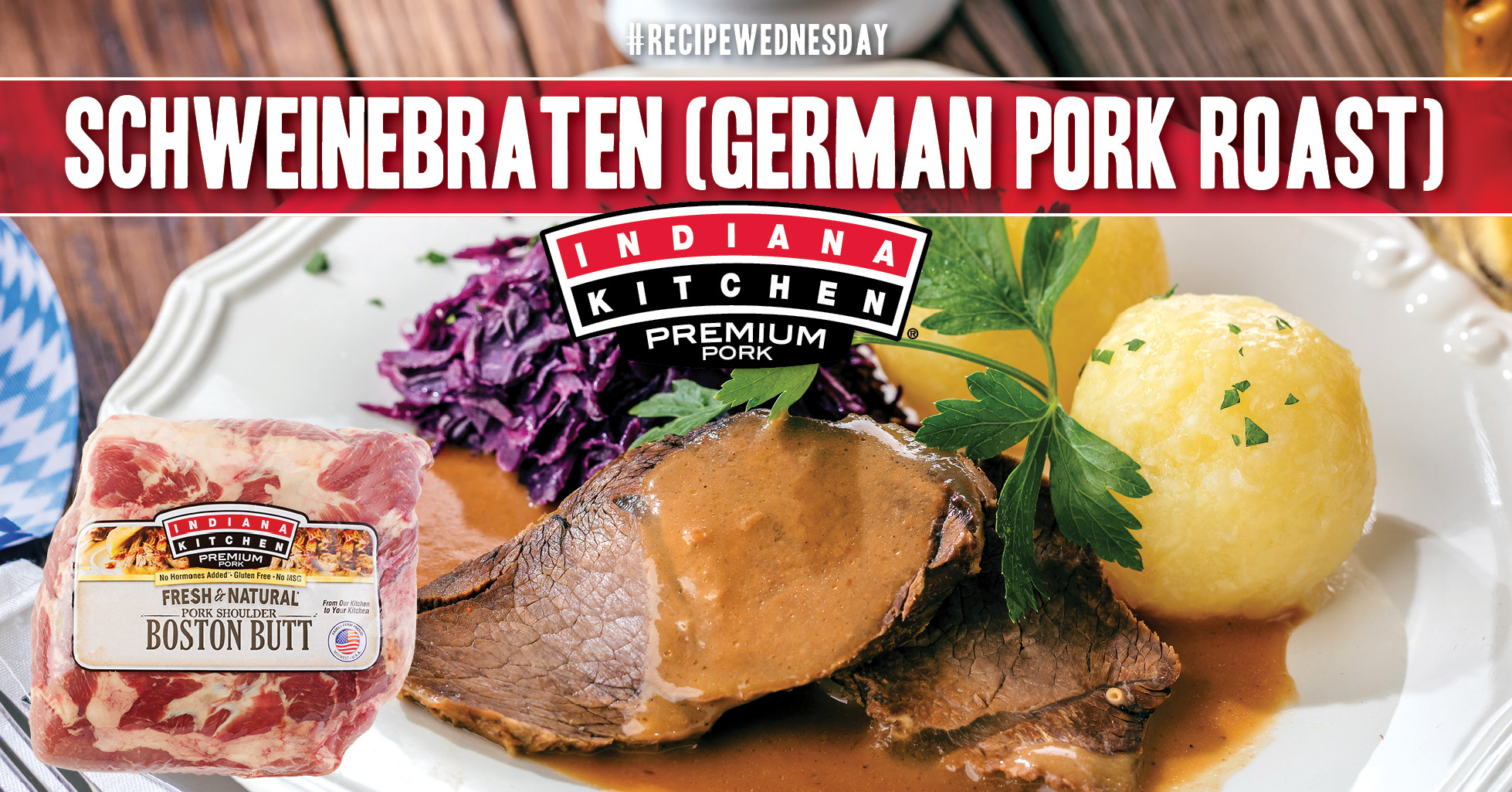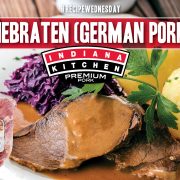 Hard to say, easy to make! Celebrate Oktoberfest at home with this classic German pork roast featuring Indiana Kitchen pork shoulder! Schweinebraten is a delicious mix of pork, vegetables and spices that hails from Bavaria, the southwest region of Germany. (You could also make a downsized version of this recipe using Indiana Kitchen pork loin or tenderloin.)
| | | |
| --- | --- | --- |
| | | Hard to say, easy to make! Celebrate Oktoberfest at home with this classic German pork roast featuring Indiana Kitchen pork shoulder! Schweinebraten is a delicious mix of pork, vegetables and spices that hails from Bavaria, the southwest region of Germany. (You could also make a downsized version of this recipe using Indiana Kitchen pork loin or tenderloin.) |
Preheat oven to 350 degrees F.

Pat roast dry with paper towel.

Mix all dry ingredients together and rub onto all sides of the roast. Then apply the Dijon mustard all over the roast as well.

Heat oil in a large oven-safe pan on medium-high. Once the oil is hot, add carrots and leeks, frying until beginning to brown.

Push aside vegetables in the pan to make room for the roast. Set burner to high and briefly brown the roast on all sides.

Add onions, including their skins (they will give your gravy a better color) and broth to the pan. Then cover and transfer everything to the oven and let roast for 1-1/2 hours.

After 1-1/2 hours, remove from oven, turn roast over and return to oven without lid, letting roast for 1 more hour. (If all liquid cooks out, add more broth to pan to keep liquid in the bottom of pan while everything roasts.)

When cooking time is up, remove from oven, set roast aside, and use a basting brush to release any browned or burnt bits from side of pan. (They'll add flavor to gravy.)

Then pour remaining vegetable-and-liquid mixture through a strainer, pouring the liquid into a separate pan so you can place back on high heat for a few minutes to thicken the liquid into a gravy.

Serve roast with gravy on top and vegetables on the side! Schweinebraten goes great with other German favorites like sauerkraut, potato dumplings or spaetzle.